Thomson Press (India) Limited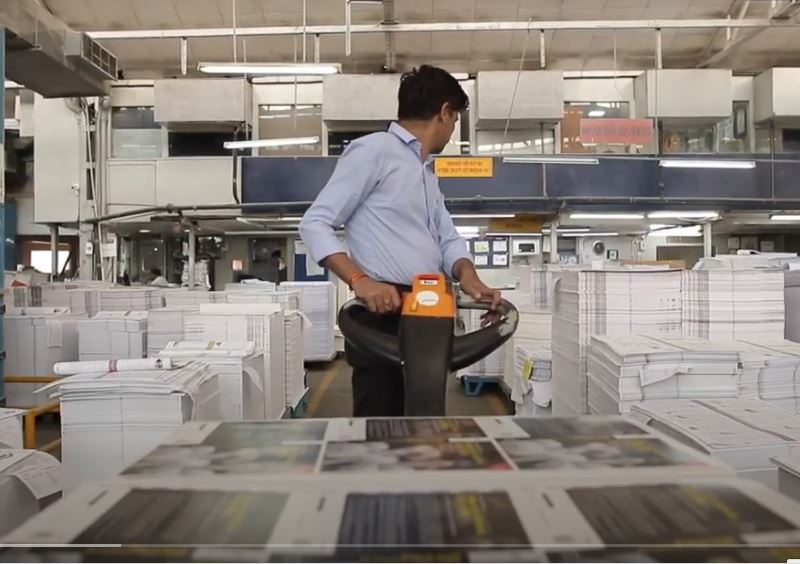 Five Critical Components of Books Production
Five Critical Components of Books Production
If you are an avid reader, you cannot deny the fact that a book communicates thoughts and ideas most dramatically. The evolution of the book has followed different communication forms and the ever-growing need for information. Ever wondered what makes a book look great and readable! It is the Publisher who manages several tasks completely and systematically. An essential part of publishing, book production needs professional expertise, too.
"Books were a luxury item before the printing press."– Nate Silver
The quote talks about the best possible experience with book reading. Book production is crucial with the steps involved, from editing to design, formatting to converting and printing.
Let's understand the five crucial components of book production.
1. Digital File Checking
Once the traditional manuscripts undergo development editing to find the content that suits the readership, it is time to do file checking. The process of digital file checking involves thorough checking of all the pages of a file. It is done to correct pictures which may turn off readers if printed with flaws. Here, is when it is checked whether the image has appeared properly with high resolution. The overall design direction is controlled by the creative time. At this point in the book production process, the 'dummy' look is created to review the pages. It helps in gauging out the appropriateness of text, images, and the changes are made as many times as required.
2. Conversion of RGB Image to CMYK Image
The next step involves the process of conversion of RGB image to CMYK, which requires great attention. CMYK Printing indicates a color process that is done using ink or toner. It is an addtiive process that plays an important role in the book production process. On the other hand, RGB denotes a subtractive color process, which is based on light. While adding the physical layers of colored ink on top, they mix one way. If you add layers of colored light with each other, they mix differently. When all of the CMYK colors are added together, they create the black color. When an RGB image is converted to CMYK to make it offset printable, usually color shifts occur. Most of the time, these shifts are minor but they can create a problem later. It is important to look after the conversion thoughtfully because it can affect your project specify if it is color-sensitive. Fortunately, you can see color shifts by uploading a CMYK image to the internet.
3. High-Quality Plate Exposing
The third step involves developing and using the high-quality plate for successful book production. Depending on the project requirement, different types of plates are prepared. Monumental plates, Pre-sensitized plates, Deep-etch plates, Bimetal or tri-metal plates are to name a few. Based on book production needs, the combination of using different commercial plates is used. It usually involves two metals for taking the form of a double film which is deposited on the third metal including zinc or steel serving as a base. When it comes to utilizing the conventional offset plates, specific processes are used to simplify the preparation work. A high-quality plate is exposed to light through the positive of different illustrations. The plate serves as conduction in the areas touched by the light and is responsible for dispersing the positive charge.
4. Color Reproduction and Paper Folding
All printing tasks are done in CMYK and then saved in RGB format. Color reduction during printing is vital to ensure that accurate color is achieved. CMYK produces a different array of colors than RGB and hence, it is important to ensure careful conversion. However, it is a known fact that some CMYK colors cannot be reproduced. As the difference is minor, so it is not noticed on screen. Similarly, many exceptions make your image look similar to print as well as on-screen. Once it is done, it is time to undertake Paper folding. This should be done correctly to ensure the margins form a different side. The margins should be left exactly from the top, bottom and sides. For books, the large press sheets required to be folded into signatures. It includes a series of right-angle folds where the sheet is folded multiple times. Folding a sheet once prepares four pages and two right-angle folds creates eight pages.
5. Cover Finishing and Decorative Process
Finishing in book production refers to all the activities that are performed after printing. It includes cover finishing, color foils, spot UV, embossing, and laminating. When it comes to cover finishing, the paper stock may require to be trimmed more than once to bring out the perfect look. Laminating indicates binding a separate material to the printed matter. Sealing the print between two different layers of material is the most common type to add strength to the printed material. Embossing involves the process to add a relief image to a book cover. When the stamped images are left, it is known as blind embossing. When applied to books covers, foils can be eye-catching and especially when metallic foils are used that add a silver or golden touch using a heated die. Different types of coatings are applied to printed material. Based on the requirement, these can be water-based or UV coatings. The decorative process of book production also involves varnishes for protection, which is not applied everywhere but only used to make logos or text colors stand out.
While these are certainly great components, they should never underrate the true function of a book printing company. A commercial printer that meets all the professional publishing standards is sure to create a super impressive book.