Thomson Press (India) Limited
Paper defines the Book Reading Experience – Five Types of Unique Papers used in Books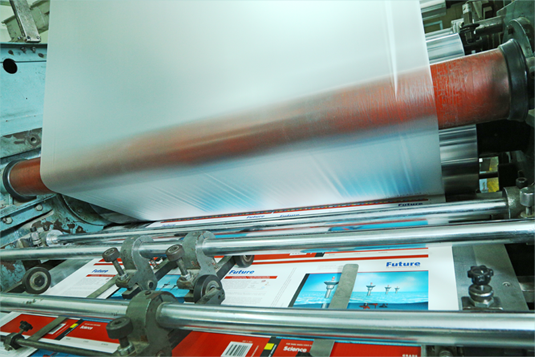 Paper defines the Book Reading Experience – Five Types of Unique Papers used in Books
Any book or magazine first exists in your head and then on paper. A timeless and renewable material, the paper has an important place in history and the future as well. Printing companies use their expertise and resources to ensure the vision comes to the life on the page in a true manner. To make a book stand out, it requires a careful selection of paper to give it the right feel when it comes alive. People tend to absorb material that is on paper. For many, the choice of a printed book offers cherished offline moments.
Reading is the most desirable hobby and every famed personality owns it. However, reading printed books may bring along significant benefits in long-term hindsight of what you have read.
"Books are a uniquely portable magic." – Stephen King
The above quote indicates the charm that books hold for the readers. Depending on the project, different types of paper are used for printing a variety of books. Let's take you through the simplified paper choices used in the book publishing industry.
1. Trade Books Publishing
The most preferred paper for trade books is the Stora Enso and Holmen grades, which are recyclable, renewable, and biodegradable. This paper is a smart choice for many publishers who want to make an environmentally responsible choice. Finding the right paper for your print needs is crucial. It comes with visual qualities that give your printing project an appealing look. Sustainable paper is the choice of many which are available in different grades and weight bases. Stora Hi Bulk Creamy 53 gsm and 60 gsm, Holmen Bulky 52 gsm and Holmen Creamy 65 gsm are to name a few. Stora Enso is considered as the most preferred type of paper used for Single colour trade books where you need to work on each aspect carefully to serve the purpose.
2. High-end Printing
It is easy to captivate the mind with uncoated book papers because they leave a lasting impression on the readers. Printing companies make sure to choose the right paper to offer a desirable reading experience. In High-end Coffee Table Books –special grade high-quality papers are recommended like 145 gsm, 120 gsm Gruppo Natural Evolution white and ivory, Rend and Super white 160 gsm. Natural evolution papers provide an elegant touch because of their soft natural texture. It comes with a special surface coating on both sides for brilliant ink to hold out. This type of paper is ideal for invitations, greeting cards, catalogs, calendars, and fashion look books. It is usually available in frost, white and ivory colors with a vellum finish. These book paper grades are suitable for offset printing like coffee table books and others. Uncoated book papers offer you high bulk alternatives for more print area per weight unit. It is known as ideal for books that come with hardcover.
3. School Book Printing
School books are meant for repeated use by children throughout the year. Hence, these have to be printed with the right choice of paper. Paperweight is usually measured in GSM, which stands for 'Grams per Square Metre'. It is a type of measurement of paper density, which directly refers to the quality of the media. Paper that comes with a higher GSM value is known as thicker ones. Premium uncoated wood-free paper is preferred for this type of publication needs. Bilt Magna 68 gsm, 64 gsm, Khanna 64 gsm are the most amazing types of Indian offset paper, falling into this category. Usually, the surface-sized paper comes with great strength and surface finish. It is apt for high-end premium printing requirements. It fulfills different types of commercial printing requirements including Multicolor Text Books, Notebooks, and Diaries.
4. Bible and Religious Books
Bible printing requires specialization because of its unique look. With excellent printing equipment, a book printing company can perfectly print very thin Bible paper-like ITC bible 35-45 gsm. Other imported bible papers include 28 gsm, 30 gsm, 33gsm, and 35 gsm. Bible printing comes with a large number of pages and meets other essential requirements of brightness, high opacity, and stiffness. However, due to the high smoothness of imported Bible paper, it provides excellent printing results. A reputed book publishing company always ensures that it is going to be preserved for years without discoloring and use specific imported Bible paper to meet the unique demands. This kind of paper is considered perfect for printing holy books, legal books, dictionaries and encyclopedias.
5. Entertainment Magazines
Magazines leave an impression on the readers with their look even before the content. Once you pick a magazine, you always pay attention to its look and then the material inside. However, to make an impact, it is recommended to use the right magazine paper with a different magazine brands. The paper you select for your magazines will depend on multiple factors, encompassing target audience, branding, distribution method, and of course, budget considerations. Therefore, publishers achieve their goals using the right blend of paper grade, finish, and weight. The ideal paper choices include start from 50gsm imported Light Weight Coated papers and Bilt 80-100 gsm coated papers. No matter whether you are printing for mass circulation or high end, the right mix of tactile and visual qualities cannot be ignored. The papers for magazines may include uncoated mechanical, wood-free uncoated, coated mechanical, and machine-finished coated. With the right blend, it is easy for a magazine to get noticed at a glance of an eye.
There you have it, a look at the different types of papers used for printing. It should answer questions you have about which paper is required for your print job.